VIEW LIVE OFFERS
25% Off Most Wanted Women's Sneakers at JD Sports
Check out this selected range of Nike, PUMA, adidas and more with up to 25% off!
171 used this week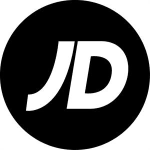 Never miss out on exclusive savings from vouchercloud
Nike Air Force 1 from $60 at JD Sports
Get those iconic shoes and pay only $60 for selected orders!
78 used this week
Nike Air Jordan 9 Sneakers with Free Delivery at JD Sports
New Jordan shoes are here! Check it out now.
Online
Sale with Extra 40% Off - Including adidas and Nike at JD Sports
All branded shoes - including Nike and adidas are now on sale!
135 used this week
Jordan Air 1 Low in Purple Only $150 at JD Sports
Level up your streetwear style with these fantastic sneakers.
Online
Nike Shoes on Sale with Extra $60 Off Selected Styles at JD Sports
Enjoy extra savings on Nike shoes for men, women, and kids!
Online
Adidas Shoes, Clothes and More with 25% Off at JD Sports
Discover selected products with up to 25% off!
93 used this week
Tommy Hilfiger Women's Footwear from $70 at JD Sports
Discover fashion-hot styles from Tommy Hilfiger now.
Online
Save Additional $60 on Selected adidas Ultra Boost Running Shoes at JD Sports
Discover selected styles with a big discount!
Online
Flexible AfterPay Payment Method at JD Sports
Shop now and pay later with flexible payment from AfterPay!
Online
Popular JD Sports Discount Codes
| Voucher Code Description | Discount Type | Expiry Date |
| --- | --- | --- |
| 25% Off Most Wanted Women's Sneakers at JD Sports | Online Deal | 19 January |
| Nike Air Force 1 from $60 at JD Sports | Online Deal | 4 January |
| Nike Air Jordan 9 Sneakers with Free Delivery at JD Sports | Online Deal | 16 November |
| Sale with Extra 40% Off - Including adidas and Nike at JD Sports | Online Deal | 4 February |
| Jordan Air 1 Low in Purple Only $150 at JD Sports | Online Deal | 28 December |
| Nike Shoes on Sale with Extra $60 Off Selected Styles at JD Sports | Online Deal | 1 February |